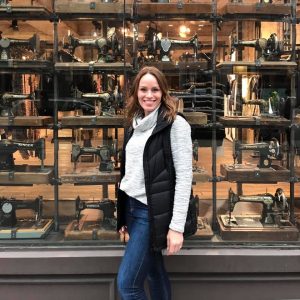 Boston day 1 was a blast! Tim and I laughed a lot as we walked around the city this evening. He did a fabulous job posing for all the photos I wanted to take of him, and even got one of me.
Day 2 was all about the Marathon and Coffee Expos! We started at the marathon expo then headed over to the world of coffee. What differing experiences to have in one day (though both held lots of energetic people 😆). We had our DNA taken to have it tested for health purposes—that was my fav marathon vendor—and we got some great marathon mementos for the family. Then we crossed town (mostly walking) and at the SCAA Expo. Tim explored roasters and looked for our next grinder while I honed in on the tea exhibitors. (I am on a quest to make Butterfly Pea Flower tea taste yummy!)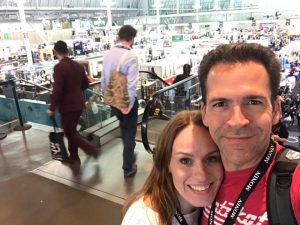 Both Expos were sooooo much bigger than I expected and our feet were beat. We ended the day by just relaxing and putting them up for a while as we waited for dinnertime.
During our third day in Boston and on the eve of the Marathon, I began to have a completely different sensibility drive my actions of the day: protectionism.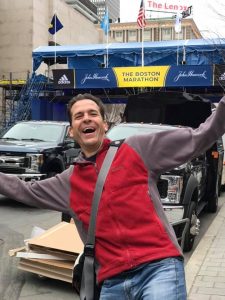 Each choice and action was accompanied (on my part) by the thought of how it would effect Tim's run. Should we walk to every destination? (We always did.) Has he eaten enough and hydrated enough? (Nope.) Is there anything I could do to make the day easier? (I ended up picking up dinner we could eat in the suite.)
At the coffee expo, we limited tasting coffee and focused on wide variety of alternative drinks: teas and scrubs… whatever didn't contain caffeine. That was a good choice. Tim was in bed, trying to sleep, by 7:30, and I sat in the darkened living room with my headphones in my ears rewatching a not-too-funny movie (so I wouldn't LOL) to kill the time.
This morning, we prayed for safety, strength, and speed, and he was out the door by 5:30 a.m.
Now I am in the "quiet" time between his departure and his arrival. Before this race, when he ran Houston or The Woodlands or Sacramento, the quiet time while he actually ran the 26.2 miles was not so quiet because I was Momming and actively caring for the children.
Not today. Today our family is back home, supporting us with their care of the children. And today I am walking through this beautiful city, which is both fully energized for the Marathon and empty feeling in these hours before any runners near the finish. All the sites on the Freedom Trail, which I am slowly walking, are almost abandoned, completely without the crowds we saw yesterday or the day before. Of course, as I walk toward Boylston Street and the finish line, I will see that they are there en masse, not gone, just re-situated.
As for Tim right now? He started at 10:06, and he's halfway there! I received notification that Tim arrived at mile 13.1 at 11:46 a.m., and will share again when he's done. Do pray, if you will, for all these runners out here. They really put so much of themselves into the goal of getting here and finishing well. May they all have safety, strength, and speed today!
Love from Boston!! 💛💙
Please follow and like us: