If you followed our trip last year and read about the time we spent at Grand Canyon, you're familiar with my fear of edges (precipices, to be exact). I don't mind heights, it's just the edge between my high point and the distant low point (the plunging, cavernous chasm below) that causes my heart to race.
Unfortunately (as I don't want to pass my anxieties along to my children either genetically or behaviorally) Julianna seems to have the same fear. So, we were quite the pair in Mesa Verde National Park as we toured the Balcony House, an ancient cliff dwelling that visitors are able to enter into and climb through with a Park Ranger. It is, as our Ranger described it, the "Indiana Jones of cliff dwelling tours." Um, yay?
When you have a chance to visit Mesa Verde, make sure you get tour tickets to visit the cliff dwellings as early as possible. Tickets are sold up to two days in advance, and sell out very quickly. Since we arrived at night with a hope to tour the next day, Tim was our tour champion. He got up and ran the mile from the Ancient Cedars RV Park to the Mesa Verde Visitors Center so he could be first in line when they opened at 7:30 a.m. We had the choice of the Cliff Palace and Balcony House, and chose the Balcony House, which we were advised allowed us a more intimate look at the cliff dwellings (though both tours are very highly rated).
As we headed up the mesa to the tour site, I read the National Park Service description of our upcoming activity.
"Adventurous Cliff Dwelling Tour: This one-hour, ranger-guided tour involves climbing a 32-foot ladder, crawling through a 12-foot long tunnel, and climbing up a 60-foot (20m) open rock face with two 10-foot (3m) ladders to exit the site."
I made an executive mommy decision NOT to describe the tour to the children, but to let it unfold naturally.
Julianna and I had already had a heart-to-heart at the Palo Duro Canyon when Tim climbed over a wooden fence at an overlook to get a better panoramic shot of the canyon depths. We conquered momentary terror to cross the Palo Duro Canyon on a zipline. We breathed through our fears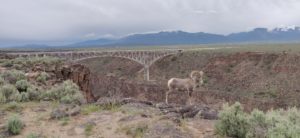 together, again, at the Rio Grande Gorge, as we stood mouths-agape watching Tim approach what seemed a treacherous edge, only to gingerly approach behind him and see that immediately below that edge was another level of rock extending out 10 more feet.
Since we kept coming upon these challenging moments, I shared with her the story of the day Tim asked me to marry him. An early afternoon proposal was followed by a romantic dinner. As we left dinner, a heavy Houston thunderstorm hit, so we decided to go see Touching the Void. Misclassified as a "docudrama survival film", it turned out to be a horror film about ice climbers who fall into a deep crevasse and face certain death multiple times before they claw their way out. As we exited the theater, Tim lightly commented, "Ice climbing looks like fun. I'd like to the try that one day." Our first fight as an engaged couple followed. There were tears.
15 years later, I told her, we are still the same people we were that day. Tim is still an adventurer, and I am still a scaredy cat. However, I said, I work not to let my fear limit my activities or experiences. I've climbed mountains; I just cried a little on the way up. I've parachuted from airplanes; I just wept a little on the way down. So it is: I fight against my fears. I invited her to be brave with me.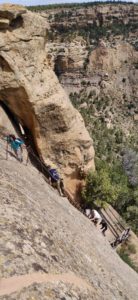 When it came to Mesa Verde and climbing rock-face ladders to get into the ancient dwellings, our ranger broke the news
after his Indiana Jones comment, and Julianna took it like a champ. We were bravery buddies, holding hands down the stairs into the canyon, and ascending the (very sturdy) ladders side by side. Being there for her helped me stay calmer on the way up. Only after we squeezed through the natural rock tunnel into the Balcony House did she lose it a little, letting the stress flow over and through her. It shows, building in her face, and wrinkled across mine, as I look at Tim's photos of that day. The fear washed over her. She wrapped her arms around my leg—not, in that moment, the independent 10 year old she so longs to be, but a wholly dependent little girl.
A few minutes later, her fear washed away. She breathed, and felt her feet under her. She expressed no more anxiety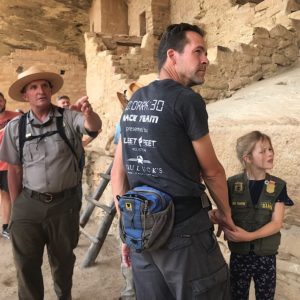 or complaints. She listened to the Ranger, and allowed herself to be drawn into that place of ancient voices and unknown names. We heard of the function of the enclosed rooms, the open balcony, and deeply cut kivas—places of meeting and ritual. We imagined the ways in which inhabitants of this place communicated with other dwellings. We tried to see beyond the empty space before us to the people who created and lived within it.
Later, I asked Julianna when she started to feel better about the tour and climbing to and through the cliff dwellings. She said she never did—that she was scared the whole time, but that she was glad we did it. My sentiments exactly.
Please follow and like us: