There was a time when I did a lot of cycling. I fell into the sport shortly after moving to Texas, drawn into the cycling community through a MS150 cycling team sponsored by my employer.
My first training ride was on a heavy mountain bike, which didn't fare well against the well-tuned road bikes of my companions. Before long, I upgraded my equipment (a couple of times) and found myself logging 100 miles each Saturday morning. As the family grew, the time consumed by cycling became more than I was willing to give and I put the bike aside.
A few years later I decided to venture into the world of running. I had previously scoffed at the idea of running, joking that I liked to avoid friction and, therefore, any reasonable mode of transportation should have well lubricated wheels. Besides, if you work your way to the top of a hill, why should you have to work to get back to the bottom?
I have come to love the simplicity of running. Little is required beyond a pair of shoes. There are no teams or roles to be defined. There are no tires to inspect nor bulky gear to transport. The rules are simple, put one foot in front of the other, find your comfort zone, and explore your personal limits on your own terms.
That isn't to say I didn't face questions. One of my first questions was what shoes to run in. My "gym shoes" at the time were a $50 pair of basic athletic-ish shoes picked up at Walmart or DSW. My response to the shoe question was to sheepishly walk into a big box sports store and purchase the 2nd to most expensive running shoe I saw that had a bunch of technobabble words on the display.
I figured I didn't need the most expensive shoe; the least expensive also seemed like a poor choice. I ended up with a pair of ASICS Kayano's. It wasn't until a year later, when I purchased my second pair of running shoes, that I learned these shoes were targeted for those needing stabilization support, which I did not. My local running store was a big help on this front. They looked at my old shoes, watched me walk, watched me run in various shoes, and provided a basic understanding of the purpose of the technology built into different running shoes. Running around 2400 miles a year, I now replace my shoes every two to three months. I have grown more comfortable in knowing what works best for me under different conditions and what injuries stem from running in "the wrong shoes."
I started running when I was 39.  For the first couple years I was reticent to claim the identity of runner. Runners were those people who ran track in high school, who were fast, who knew all the answers about technique and training; runners were… not me. My commitment to the sport continued to grow, however, and I soon found myself waking up at 4:30 in the morning–even on weekends–for the pain and enjoyment of a run and the running community I had found. The day I realized I was waking up before dawn to run in the rain, I acknowledged that I am a runner.
One of the great joys that has come from running is the freedom it provides to explore new places. In my cycling days, I was often preoccupied with how I would get my saddle time in. Hotel spin bikes were often in disrepair, and renting a bike or finding a safe place to ride when traveling presented its own challenges. I have enjoyed some wonderful times with the bike on vacation, but it is a lot easier to pack a pair of shoes and run out the door without a second thought.
In our family travels, Tamara now eagerly awaits my return from the first run in a new city: I report back the sights and sounds, tell the children of the parks to be explored, make a mental note of the local coffee shops and stores, and gain an appreciation for the pulse of the city as I travel its streets and pathways.
But the run isn't only about exploring my surroundings. I use the time to explore my own thoughts, reflecting on the experiences of the day and my ambitions for the days ahead.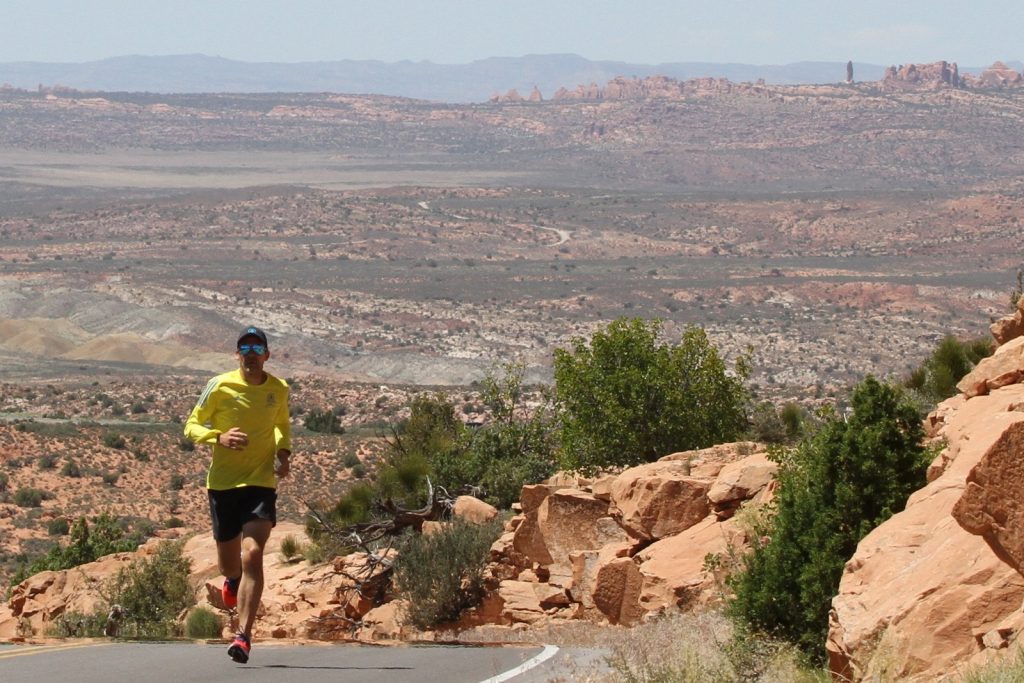 Please follow and like us: