I wonder at our destinations, and the surprise joys we find, as they unfold along our journeys. If not for choosing Vail as our anchor destination (the place we aim toward to spend a week relaxing), I may not have explored what there is to see in the Texas panhandle. Heading northwest, however, put it right in our path, and one day to the next, we moved from a tribute to America's pioneering spirit to a tribute to its free spirit.
When I saw we'd be passing through Amarillo to northern New Mexico, I reached out to my friend Jeanne, and she knew just what we could do.
"You have to see the Texas Show. The kids will love it."
She was right. We all enjoyed the musical performed at the base of the Palo Duro Canyon and telling the history of the region. Cowboys, Indians, Settlers, Prospectors, Ranchers, and the daughters and wives that accompanied them sang and danced with the walls of the second largest canyon in the US rising around them. The night ended with fireworks and a tribute to the Armed Forces, representing well America, and the best of its pioneering and patriotic spirit.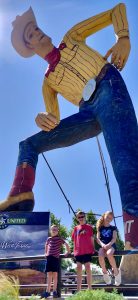 When morning came, we continued the cowboy theme with a visit to Tex Randall, Big Texan (which I imagine rates as the biggest cowboy in the world) and the Big Texan Steak House, home of the 72-ounce steak challenge (eat it and get it free!) Not even tempted with the steak challenge, we enjoyed a filling lunch of regular-sized steaks and then surprised the children with their own cans of spray paint and permission to make their mark at Cadillac Ranch.
Unlike what I imagined, Julianna was initially horrified by the prospect of sanctioned graffiti. Only when she witnessed our fellow travelers painting the old, buried cars—thick and distorted with layers of aerosolized colors, each a memory for a fellow traveler who'd taken the time to stop—did she
accept the legitimacy of our activity. More than Elijah or Theodore, both of whom arrived eager and willing, Julianna plunged into the experience. Inside cars, outside cars, with blue, green, pink, and white, she painted her initials and hearts.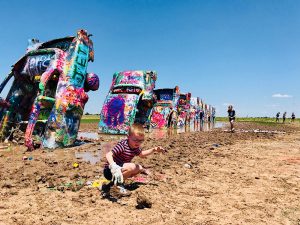 She and the boys trudged around in the mud (so much mud), each finding their own entertainment. Theo was more enchanted by the mud than the paint. Elijah found the ground a more attractive palette than the cars. Tim commemorated our visit with a giant J E T (in honor of our JET Pack, Julianna, Elijah, and Theodore). I enjoyed watching and capturing photos of their artistic expressions.
When we had exhausted our creative reserves, we headed back to the RV to drive to the next stop. Julianna, later musing about our time at Cadillac Ranch, said, "That was  weird, like that shoe store we saw in the middle of the desert last year. I don't know why it's there, but it was fun."
Please follow and like us: